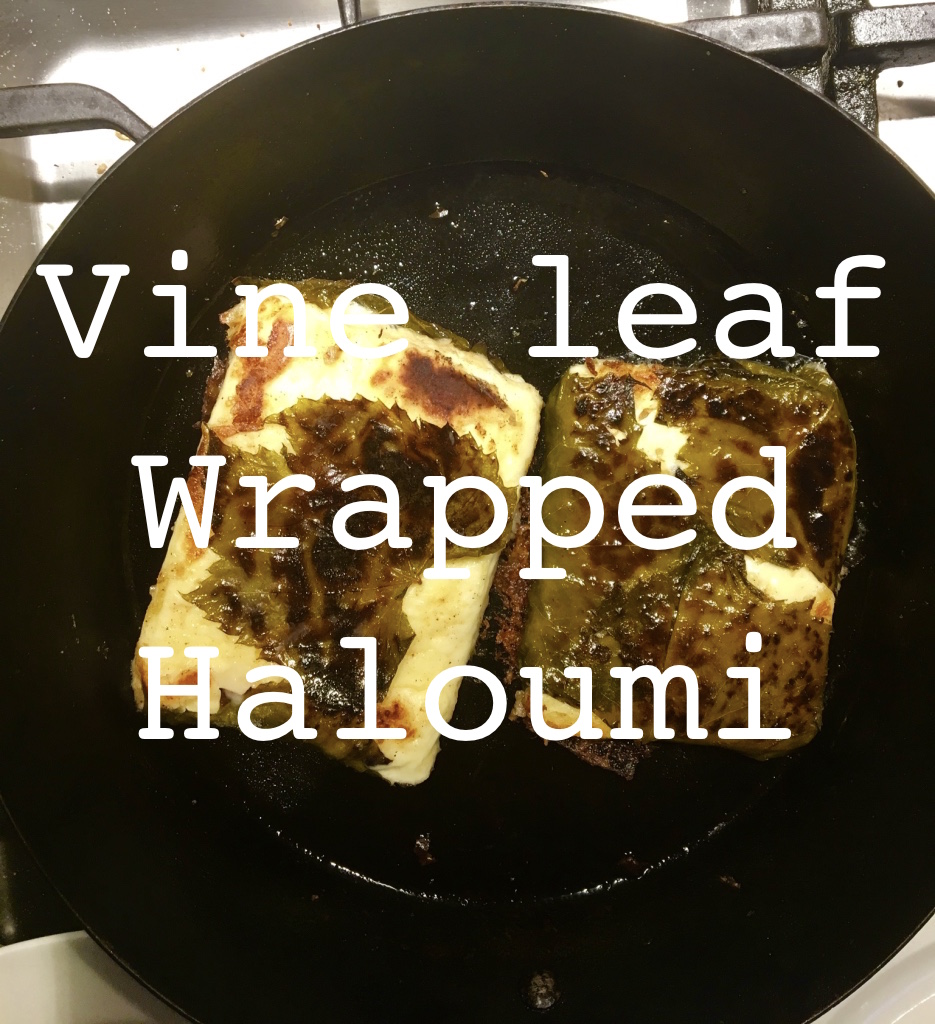 We're having this as a little starter/side dish on Christmas day, and it's a doozy.  It's a perfect little summer thing – with a little spritz of lemon juice, a handful of olives and something cold and refreshing to drink you could sit in my back yard and watch the sun creep down the high, bagged, terracotta factory walls that enclose my garden and be forgiven for unimaginatively pretending that you were somewhere mediterranean.  Provided it was warm enough.
Because we live in Brunswick we see it as our duty to have a kilo bucket of haloumi in our fridge AT ALL TIMES.  Because what if there's a haloumi emergency?  Such as a vegetarian friend turning up and us having nothing to feed them!  (That would never happen, it's just an excuse I like to keep in my mind to avoid the real truth which is that we're just cheese addicts through and through).  Where was I going with this?  Oh yeah, it's heaps cheaper to buy in bulk and the stuff you get in bulk is in brine, so it lasts for ages, and is really much better quality than, say, your 180g Lemnos block that costs $6.  I recommend it.
This is the kind of thing you can eat by itself or with a selection of salads, or fish cooked in any mediterranean style – just grilled with lemon and oregano, or with tomatoes and onions would be my choice.
Note: The vine leaves here come from the vine in my front garden but I've made it many times with preserved vine leaves that come in a jar, so if you only have access to those that's totally fine.  If you have access to fresh leaves you want to pick the smaller, younger leaves – they're more tender, less stringy, and have a more delicate flavour.  The pre-processed leaves in a jar are usually pretty big, but they can be randomly small too.  I'm not going to give specific amounts here, it just depends on how much you want to make and how many people you're making it for – but as a vague guide, budget 2 fresh leaves or one preserved leaf per slice of cheese.
Note the 2nd: The flour can also totally be omitted if you're gluten free, it just provides a nice bit of extra crunch on any spots where the vine leaves don't cover.  That crunch is really nice all over if you can't find (or don't like) vine leaves.
Ingredients
Haloumi
Vine leaves (see note)
¼ cup flour, maybe a bit more (optional, see 2nd note)
½ tsp cinnamon
¼ tsp allspice
½ tsp cayenne pepper
Method
If you are using fresh leaves they will need to be blanched before use: put the kettle on, put the leaves in a bowl, pour the boiled water over the leaves and let stand for a minute.  Refresh in cold water (just run them under the cold tap, they cool down almost instantly because there's really not much to them so there's not need to have a bowl of iced water waiting).  Squeeze the excess water out of the leaves then pat them dry with kitchen paper or a tea towel.  You'll find that the leaves are now very pliable, and will stick to themselves nicely when wrapped around the cheese.
If you are using preserved leaves they will need to be rinsed and soaked in fresh water for, say, half an hour to extract the briny flavour.  Then pat dry.
Rinse the haloumi well to wash off any excess brine and pat dry with kitchen paper – you can also soak the haloumi in fresh water for an hour or so if you find the cheese too salty.  Slice the blocks of cheese into 1-1½ cm wide strips, cutting along the short end of the block so you end up with a little rectangle shape with a seam in the middle (this will actually depend entirely on what type of haloumi you're using).  The picture at the top is actually a photo of a whole block of haloumi sliced in half, so the vine leaves will wrap around the little cheese slices much more fully and easily (we were having haloumi steaks with tomato salad, and cabbage som tam for dinner. It was great).
Mix the flour and spices together – or just the spices if you're not using the flour – and either dredge the cheese through the flour, or sprinkle the spices over the cheese.  You just want a light coating with the flour, otherwise it will get slimy and gross underneath the vine leaves.
Wrap the cheese pieces in the vine leaves, doesn't matter if the ends are poking out.  The leaves should stick to themselves a bit.
Heat a frying pan fairly hot, a non-stick one would do well here because the leaves and the cheese can be a bit sticky.  A little oil can be useful here to prevent sticking but the cheese does release a little fat so it's not always necessary.  Fry the slices with the loose leaf edge down and flip when golden brown and crunchy.
Serve asap, and scoff with lemon and pepper.  A bit of mint never goes astray either.
Feel free to adjust the spice mix too.