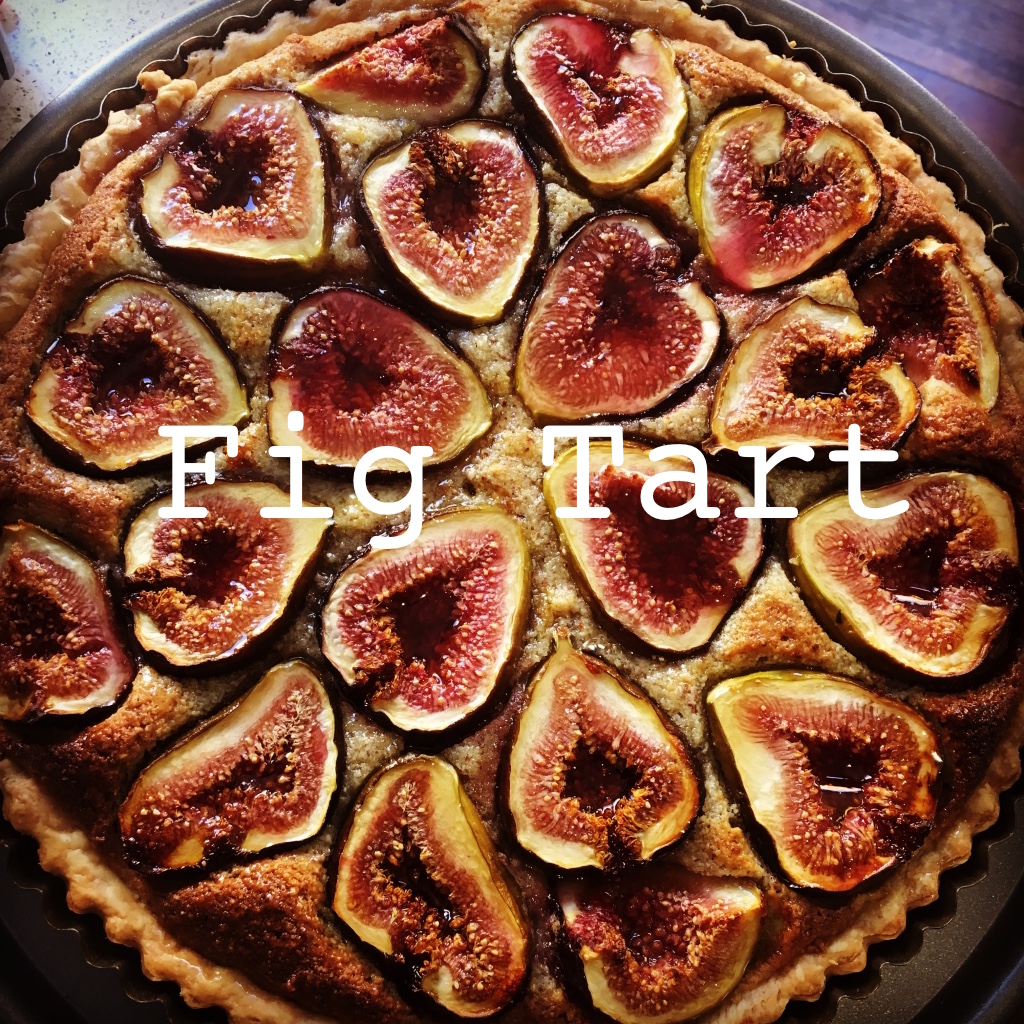 There I was last week whinging about food blogs only ever posting sweet things and I'm giving you two in a row.  Oh well, this is divine.
We had a big group of people around for lunch on Labour Day because Andy's mum and her partner were in town (to visit the baby, we don't even get a look in these days) so we had them, my parents, and friends, and cousins of Andy's mum – 9 grown ups in total.  We made heaps of stuff – cauliflower, hazelnut and manchego pies; spit-roasted chook; tomato salad made from the last of the tomatoes in the backyard; beetroot and rocket salad; mushrooms with garlic and parsely; soft polenta (side note: I am bringing polenta back, single-handedly if necessary.  You mark my words, by the end of 2016 it will be everywhere again even if it's just because I'm running around with a massive tub, giving it out on street corners. Fuck. Yeah. I really like polenta); AND this!  This quite amazing fig and frangipane tart that I am really very smugly pleased with myself about.
When I make it again I might add a little orange zest to the frangipane, or if I can get it from a friend, brush the pastry with cumquat marmalade.
BTW, I now have a facebook page for the blog where you can follow me if you read this but we aren't friends on facebook (HA! Not likely) – https://www.facebook.com/thekatechen/
Fig and Frangipane Tart
Note: I used shop-bought, all butter, sweet shortcrust pastry for this.  As far as I know the only brand that sells all butter pastry (as opposed to vegetable shortening) in Australia is Carême.  It can be really hard to find but it just so happens that they sell it at the greengrocer 30m from my house.  If you can't get it (or something similar) you will get a nicer result if you make some, but – Christ-on-a-bike! –  it's not the end of the world if you you just use supermarket shortcrust.
Ingredients
1 packet shortcrust pastry (see note above)
Frangipane
125g room temperature unsalted butter (½ cup)*
110g caster sugar (½ cup)
1 tsp vanilla paste or 2 tsp vanilla extract
2 room temperature eggs**
135g almond meal (1 ¼ cups)
2 ½ TBS plain flour (50 mls)
1 tsp whole fennel seeds (ground would be fine too)
Sprig of rosemary (1-1½ish tsp)
Topping
8-10 fresh figs
some runny or warm honey
Method
Butter a loose bottomed flan tin – mine is 25cm across and 3cm deep.  Lay you pastry across the tin and press in so it fits snugly, cutting extra bits to press into any spaces that aren't covered.  Leave a little extra pastry hanging over the edges.  Put the flan tin on a baking tray then put into the fridge for at least half an hour to prevent shrinkage.
Pre-heat the oven to 180° (in my oven I would do this at about 160º).
Cream the butter with the sugar until pale and fluffy.  Add the eggs one at a time until fully incorporated.  Sometimes the mixture will look like it has split at this stage, don't worry just keep mixing and add a little of the almond meal if it won't come together.  Stir in the almond meal, then the flour, fennel seeds, and rosemary.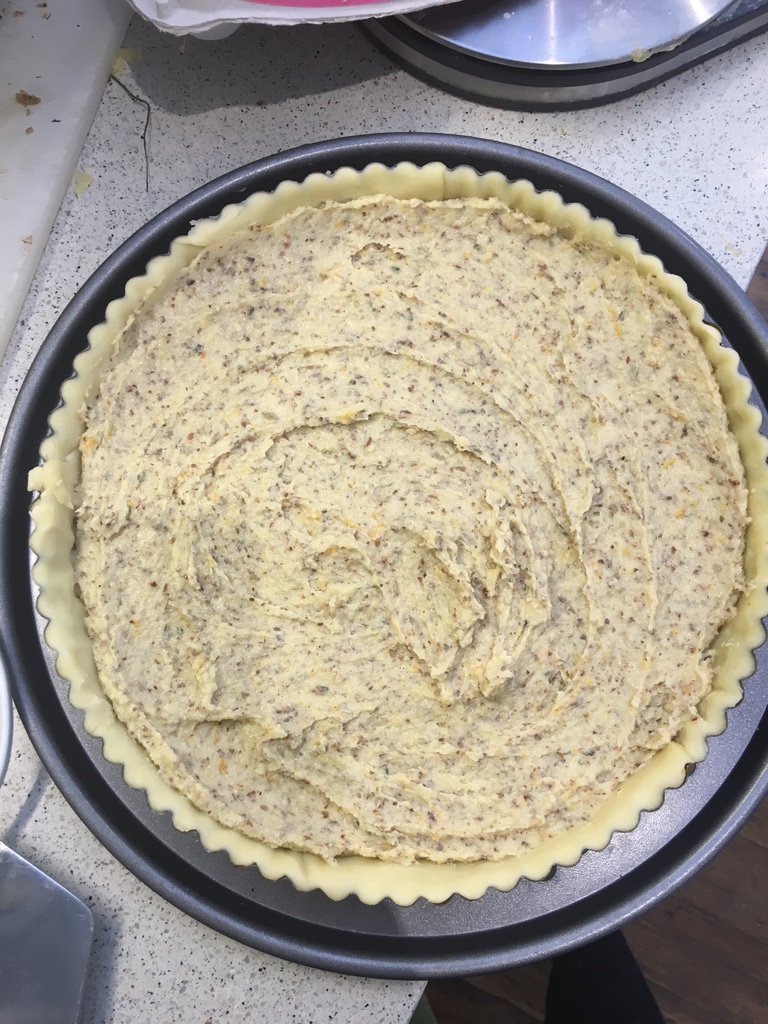 Cut the figs in half lengthways.  Take the tray out of the fridge and press off the extra pastry so the edges are flush with the top of the tin. Fill the pastry casing with the frangipane, spreading it flat and evenly.  Arrange the figs on the frangipane in a nice pattern, cut side up, cutting them into quarters to fill gaps as you need.  Press the figs into the frangipane a little if you can.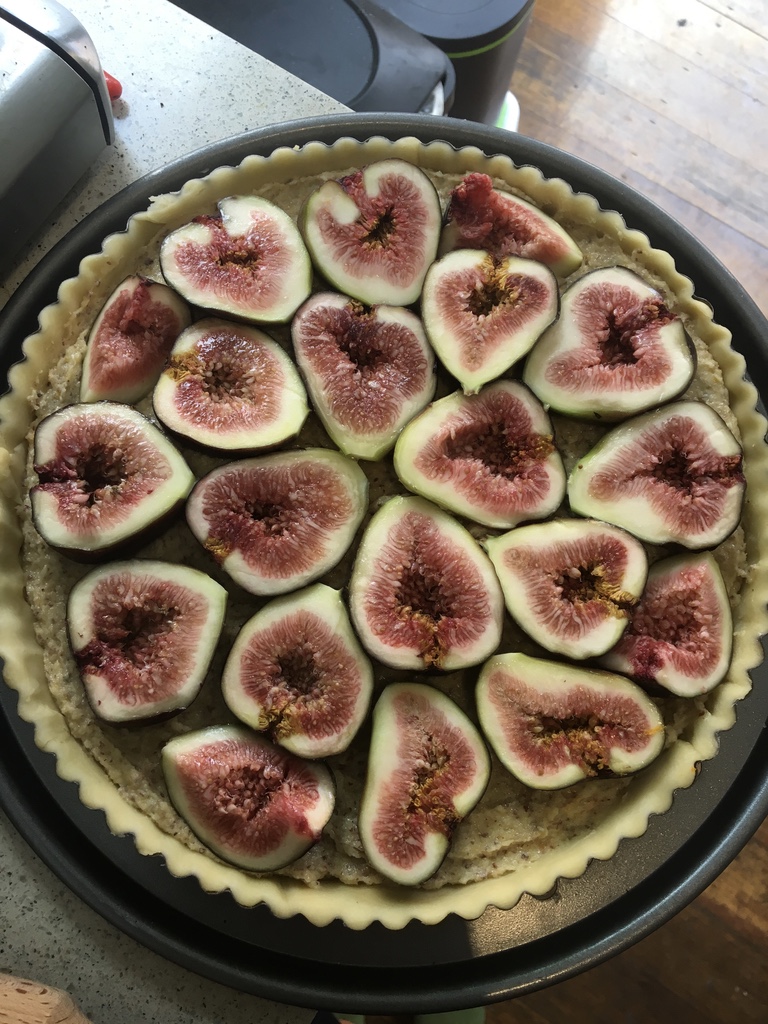 Put the tart (still on the tray) in the oven.  It is ready when a skewer pushed into the middle comes out clean – test it after 50 minutes but don't be too surprised it if takes up to 25 mins longer than that.
When it's ready, take it out of the oven, and while it's still hot, brush the figs with the warm honey, allowing  some of the honey to pool in the hollows.  Set aside to cool.
This is best eaten cool (not cold) or just slightly warm, with really good thick cream.
_____________________________
*Let's just chat about room temperature butter for a moment – this just means soft.  So it's not like room temperature on the day, it's soft enough that you can just poke it with a finger and it will leave a big dent, but not so soft that it will collapse. You want it like that because it makes it easy to whisk with the sugar, allowing the mixture to incorporate lots of air.
**the mixture will seize less when you add the eggs if they are room temperature, it doesn't really matter that much though.  You can cheat and bring them up to room temperature by sitting them in some warm water for a few minutes if you want.